13/09/2023
-
Event - News
First windshield to integrate visible and thermal cameras will help car makers meet new day and night safety requirements for Pedestrian Autonomous Emergency Braking (PAEB) systems
Grenoble and Thourotte (near Paris), France - Spetember 13, 2023:
Lynred and Saint-Gobain Sekurit today announce the world's first windshield that incorporates both visible and thermal cameras side-by-side. The windshield, with an enhanced sensingsystem, aims to help car makers improve the reliability of collision mitigation systems by detecting pedestrians in adverse visibility conditions, particularly at night, when more than 75% of pedestrian fatalities occur1. It will also reduce incidences of false positive alarms - cars automatically braking when there is no danger, creating a risk of rear-end collisions.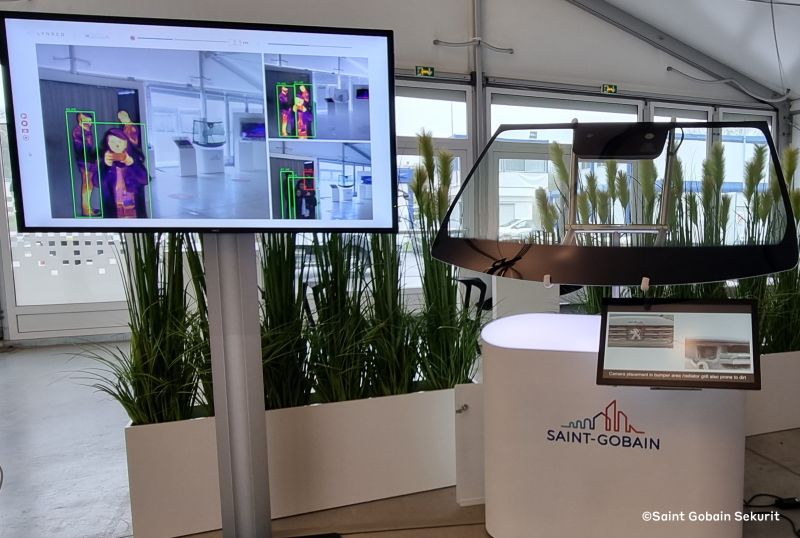 Saint-Gobain Sekurit and Lynred will demonstrate their visible and thermal sensing suite integrated into a windshield during AutoSens in Brussels, September 19 – 21, at booth 40. This sensing-system is the first to enable thermal imaging through standard windshield glass; detecting and classifying pedestrians at up to 140m in all weather and lighting conditions.
This co-development is in response to new automotive vehicle safety standards requiring Autonomous Emergency Braking (AEB) and Pedestrian Autonomous Emergency Braking (PAEB) systems to work reliably both day and night, at speeds up to 100km/h for lead car crashes avoidance and up to 65km/h for pedestrians. Within four years of public approval of the regulation, the US National Highway Traffic Safety Administration's (NHTSA) notice for proposed rulemaking will require light vehicles to be equipped with these systems.
Europe's Road Safety Policy Framework 2021 – 2030, and its 'Vision Zero' approach, is also requiring better vehicle construction to improve road and pedestrian safety.
Read more from the official press release here.