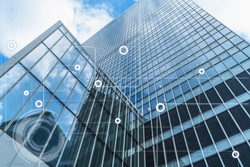 Optimizing energy consumption for building owners and i

mproving comfort and produ

ctivity for residents
Energy Management
Optimizing energy consumption is a big concern in our everyday lives. Office building and other commercial facilities now need a new range of smart solutions able to control building systems such as lighting or HVAC (Heating, Ventilation and Air-Conditioning) in order to reduce the overall building power consumption. Thermal Activity Sensors are that kind of smart solution able to bring valuable data for this type of energy consumption optimization.
Workspace Management
Workspace management is another concern in modern office buildings. By actively monitoring people flow data it is possible to identify how a building, a floor or a meeting room is being used in line with its capacity. Based on this information; you will reduce the cost of space requirements and then optimize the building usage. Thermal Activity Sensors can provide a solution able to make a building more intelligent and enhance its service.
Security & Safety
Thermal Activity Sensors detect much more than just movement. Thanks to their accuracy and precise detection capability, you will distinguish an alarm triggered either by a pet or an intruder; bringing a new level of awareness to alarm systems. Thermal Activity Sensors procure ultimate building security strength. Abnormal hot spot detection is also another added value you can provide to buildings.
Conclusion
Thermal Activity Sensors offer many benefits to building owners. Please review our uncooled products for detailed technical specifications.

Source: ULIS https://www.ulis-ir.com/