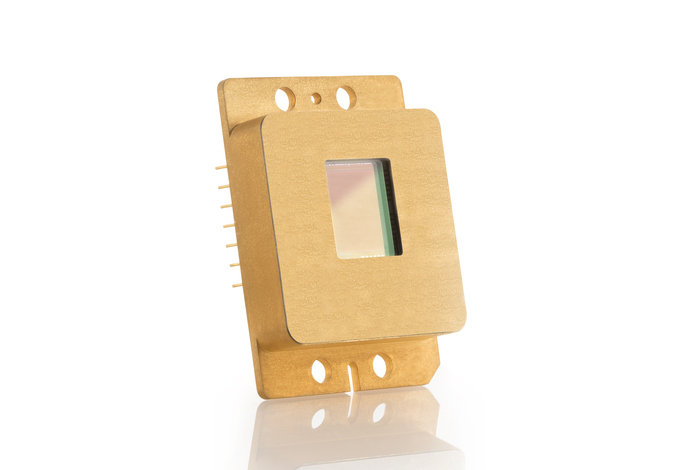 0.9 - 1.7 µm spectral range
High resolution (VGA )

High speed (300 FPS )

Low noise (30e-)

Low dark current (30 fA @ 295 K 0.2 V bias)

High operability guaranteed ( 99.9% typical )
Description
SNAKE SW detectors are very low noise and high speed InGaAs sensors designed for the most demanding SWIR applications from 0.9 to 1.7 μm.
The 640 x 512 VGA format detectors with 15-micron pixels are available in two versions, the SNAKE SW, a hermetically sealed metal package which includes an integral TEC (thermo-electric cooler), or the SNAKE SW TECless, a hermetically sealed ceramic package without a TE Cooler. Both detectors are designed for wavelengths ranging from 0.9µm to 1.7 µm and boast low noise, fast frame rates up to 300Hz, excellent image quality and a pixel operability of >99.9%.
The SWIR detectors are compact, utilize very little power and are cost effective. In particular, the SNAKE SW Tecless has a footprint of only 0.65" x 0.65" and consumes <160mW in 2 output mode.
SNAKE SWs are well-adapted to a large range of applications such as space/LEO communications, (laser beam profiling), surveillance (detection through fog and smoke), hyperspectral imaging and industrial process inspection (agriculture, pharmaceutical, semiconductor,) and scientific R&D.
Lynred InGaAs technology provides outstanding performances in terms of sensitivity, noise, dark current and operability.
Let Us Help You With Your Project
Let Us Help You With Your Project